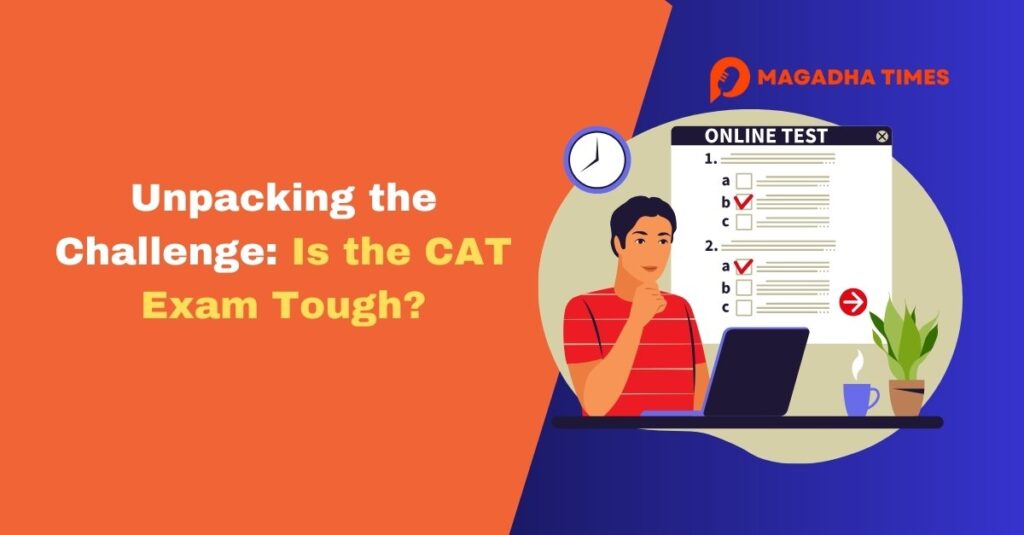 The Common Admission Test (CAT) is not just another entrance exam; it's a gateway to some of the most prestigious management institutions in India. However, its reputation as one of the toughest entrance exams is equally well-known. In this article, we delve deep into the CAT exam, examining its format, key factors that contribute to its perceived difficulty, and the truth behind its toughness.
The CAT Exam Format You Should Know
CAT is a computer-based test with a duration of 2 hours. It comprises three main sections:
Verbal Ability and Reading Comprehension (VARC): This section tests your language skills and reading comprehension abilities.
Data Interpretation and Logical Reasoning (DILR): It assesses your analytical and logical reasoning skills.
Quantitative Ability (QA): This section evaluates your mathematical and problem-solving capabilities.
Each section is timed, and you cannot switch between them. The marking scheme includes both correct and incorrect answers.
CAT's Reputation in Society
CAT enjoys a formidable reputation in the world of management entrance exams. Aspirants often regard it as one of the toughest exams due to several reasons:
Competitive Peer Group: CAT attracts candidates from diverse academic backgrounds and experiences. The competition is intense, making it challenging to secure a top rank.
Time Pressure: With just two hours to answer multiple-choice questions and subjective answers, time management is crucial. The time pressure can add to the difficulty.
Complex Problem Solving: CAT questions are known for their complexity. They require deep analytical thinking and problem-solving skills.
Extensive Syllabus: The syllabus is vast, encompassing various topics. Aspirants must be well-versed in mathematics, language, and logical reasoning.
Varied Question Types: CAT presents a variety of question types, making it essential for candidates to adapt quickly during the exam.
Key Factors That Make CAT Tough You Should Know
Competitive Peer Group: The presence of some of the brightest minds in the country can be intimidating. The competition pushes aspirants to perform at their best.
Time Pressure: CAT's stringent time limits force candidates to think independently. Effective time management is critical to answering all questions within the given time.
Complex Problem Solving: CAT questions are designed to challenge problem-solving skills. They often require candidates to think critically and creatively.
Extensive Syllabus: The syllabus is vast, covering a broad spectrum of topics. Aspirants need a strong command of mathematics, English, and logical reasoning.
Varied Question Types: CAT doesn't rely on a single question format. This diversity demands adaptability from test-takers.
CAT Preparation and Coaching
Structured preparation is essential for CAT success. Many candidates opt for CAT coaching to navigate the challenges effectively. Coaching institutes, such as Career Launcher Dehradun, are pivotal in shaping aspirants into successful CAT candidates. They offer:
Expert Faculty: Career Launcher Dehradun boasts experienced educators who are well-versed in the CAT exam pattern.
Comprehensive Study Material: Meticulously designed study material covering the CAT syllabus.
Mock Tests and Analysis: Regular mock tests and performance analysis to gauge progress and identify areas for improvement.
Doubt Resolution: Platforms for clearing doubts to ensure a clear understanding of all topics.
Motivation and Guidance: Beyond academics, coaching institutes provide motivation and guidance to keep candidates focused and inspired.
Proven Track Record: The success stories of CAT toppers mentored by Career Launcher Dehradun speak volumes about the institute's effectiveness.
For better results and a proven track record, you can also start preparing for your CAT journey from CL Dehradun.
Is CAT Tough or Easy?
The question remains: Is CAT adamant? The answer is nuanced. CAT is undoubtedly challenging, but it's not insurmountable. Success in CAT depends on a candidate's preparation, mindset, and dedication. With the right approach and guidance, it's possible to conquer CAT.
Best Tips for CAT Aspirants. How to Clear It
Here are some practical tips for CAT aspirants to tackle the exam effectively:
Develop a structured study plan.
Take regular mock tests to assess your progress.
Practice time management during preparation.
Focus on your weak areas.
Stay motivated and maintain a positive attitude.
Cat Aspirants Success Stories
Success in CAT is not an unattainable dream. Many individuals have faced the CAT challenge head-on and emerged victorious. These success stories serve as inspiration and a testament to the conquerable nature of the CAT exam. With dedicated preparation, even the most demanding challenges can be overcome.
Conclusion: Is the CAT Exam Tough?
In conclusion, the CAT exam is challenging, but it's a challenge that can be overcome. CAT's reputation as a challenging exam is well-deserved, given its competitive nature and complex question patterns. However, with the proper preparation, coaching, and mindset, aspirants can confidently face the CAT exam and emerge triumphant. It's a journey that may be tough, but it leads to promising opportunities in management education. CAT may be challenging, but so are the aspirants who conquer it.